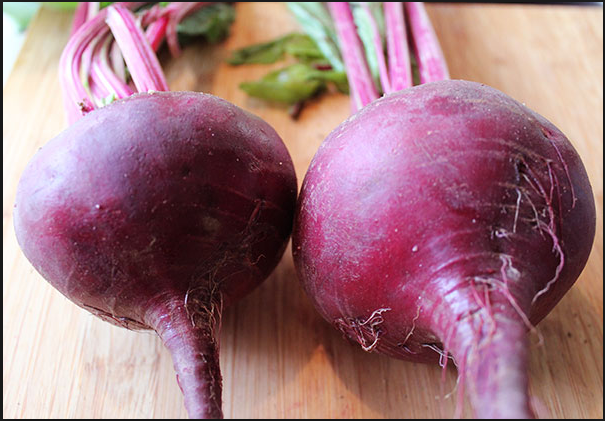 Beet roots have always been included in my most recommended vegetables list, although they are in the "use sparingly" category because of their high carbohydrate levels.
Although beets have the highest sugar content of all vegetables, most people can safely eat beet roots a few times a week (and their greens in unlimited quantities), enjoying not only their sweet, earthy flavor but also their powerhouse nutrients that may improve your health in the following ways.
Lower Your Blood Pressure
Drinking beet juice may help to lower blood pressure in a matter of hours. One study found that drinking one glass of beet juice lowered systolic blood pressure by an average of 4-5 points.3
The benefit likely comes from the naturally occurring nitrates in beets, which are converted into nitric oxide in your body. Nitric oxide, in turn, helps to relax and dilate your blood vessels, improving blood flow and lowering blood
pressure.
Rich in Valuable Nutrients and Fiber
Beets are high in immune-boosting vitamin C, fiber, and essential minerals like potassium (essential for healthy nerve and muscle function) and manganese (which is good for your bones, liver, kidneys, and pancreas). Beets also contain the B vitamin folate, which helps reduce the risk of birth defects.
Detoxification Support
The betalin pigments in beets support your bodys Phase 2 detoxification process, which is when broken down toxins are bound to other molecules so they can be excreted from your body. Traditionally, beets are valued for their support in detoxification and helping to purify your blood and your liver.
Boost Your Stamina
If you need a boost to make it through your next workout, beet juice may again prove valuable. Those who drank beet juice prior to exercise were able to exercise for up to 16 percent longer.The benefit is thought to also be related to nitrates turning into nitric oxide, which may reduce the oxygen cost of low-intensity exercise as well as enhance tolerance to high-intensity exercise.
Dementia: Researchers at Wake Forest University have found that drinking juice from beetroot can improve oxygenation to the brain, slowing the progression of dementia in older adults.
According to Daniel Kim-Shapiro, director of Wake Forests Translational Science Center, blood flow to certain areas of the brain decrease with age and leads to a decline in cognition and possible dementia. Consuming beetroot juice as part of a high nitrate diet can improve the blood flow and oxygenation to these areas that are lacking.
Diabetes: Beets contain an antioxidant known as alpha-lipoic acid, which may help lower glucose levels, increase insulin sensitivity and prevent oxidative stress-induced changes in patients with diabetes.
Exercise and athletic performance: Beetroot juice supplementation has been shown to improve muscle oxygenation during exercise, suggesting that increased dietary nitrate intake has the potential to enhance exercise tolerance during long-term endurance exercise. Quality of life for those with cardiovascular, respiratory, or metabolic diseases, who find the activities of daily living physically difficult because of lack of oxygenation, could be improved.
Your health is our concern!
Mawuena Workartey/ ghanahospitals.org